Description
La guitare est au jazz, et ce depuis les années 30, un ingrédient indispensable. Depuis la pompe aux solos en passant par les « voicings », la guitare jazz est à la fois un instrument rythmique, harmonique et mélodique. Que ce soit en swing, en manouche, en fusion ou en bebop, la guitare y occupe une place plus qu'importante. À travers ce stage, nous allons mettre l'accent sur la place que peut prendre la guitare dans cette musique, à travers l'improvisation et l'accompagnement.
Niveau
Niveau technique intermédiaire/avancé en guitare, connaissance du manche intermédiaire/avancée.
Matériel
Votre guitare (bien sûr), votre ampli et de quoi écrire.
Contact
Pour toute question, nous nous ferons une joie de vous répondre par mail (contact@akdt.be) ou par téléphone (061 22 54 79).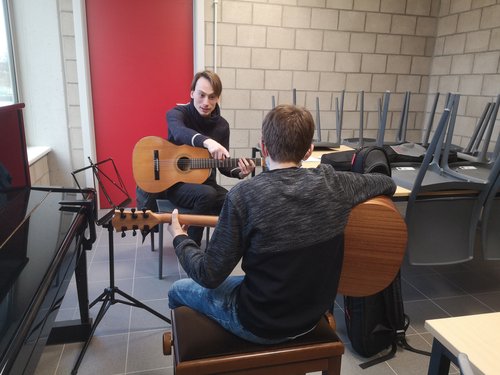 To register, please complete the following form.