Description
Dans la première moitié du XVe siècle, naît en Flandres une "nouvelle" peinture à l'huile attribuée aux frères Van Eyck, peintres et alchimistes. Leur procédé, qui requiert de la patience, est basé sur l'alternance et les différentes propriétés des couches grasses et des couches maigres. Cette technique en "pelure d'oignon", par transparence de couches, permet d'obtenir une profondeur remarquable. Les pigments, isolés dans des glacis oléo-résineux, sont sublimés.
Ce stage est plutôt conçu pour ceux qui ont déjà suivi un stage (ou des cours) avec Jean-Pierre Poidevin ou Hélène Feye bien que les débutants soient les bienvenus. En effet, faute de temps, de matériel et d'espace, nous ne préparerons pas de panneaux sur place (cette tâche s'accomplit plus aisément en été). L'objectif premier est de finaliser des tableaux en cours ou de commencer de nouveaux projets sur panneaux déjà préparés par l'élève (selon les recettes enseignées). Bien entendu, les débutants ne seront pas en reste, et sont invités à prendre contact avec Hélène Feye avant le stage.
Niveau
Aucun prérequis n'est exigé. Qualités nécessaires : enthousiasme et patience.
Matériel
Attention ! Aucun matériel ne sera fourni sur place, excepté une table et une chaise pour chacun. Il convient donc d'amener une protection pour sa table (ex. du papier Craft), son chevalet si nécessaire, ses panneaux déjà enduits, les reproductions-couleur choisies et tout son matériel de peinture.
Pour éviter notamment aux débutants des achats inutiles, ils sont invités à prendre contact (par mail) avec le professeur avant le stage.
Memento pour le matériel :
Cahier de notes
Assiettes blanches en carton plastifié
Chiffons
2 reproductions couleur du modèle choisi
Papier calque (pas trop fin)
Portemine et gomme
2 bâtons de pastel sec couleur rouge ou orange ou brun
Brou de noix (en poudre)
Une baguette de minimum 1 mètre, de 10 mm minimum de section
De petits récipients en verre ( et des bouchons de bouteille en plastique ou en fer)
Essence de térébenthine ou de lavande
Pinceaux: un traînard, une langue de chat, des brosses de différentes largeurs, notamment de 5cm au moins de large
Tubes de peinture : ( préférence pour la marque belge Blockx) : blanc de zinc et blanc de titane , bleu d'outremer et bleu de Prusse, ocre jaune, ocre rouge, jaune de cadmium, rouge de cadmium, terre d'ombre brûlée, terre de sienne, jaune indien, violet d'Egypte, laque de garance.
Si vous en trouvez : bitume (n'existe pas tel quel en blockx, mais, par ex., marque rembrandt).
Contact
Pour toute question relative à la pédagogie du cours, merci de contacter Hélène Feye via son adresse email (helenefeye@hotmail.com).
Pour toutes les autres questions, nous nous ferons une joie de vous répondre par mail (contact@akdt.be) ou par téléphone (061 22 54 79).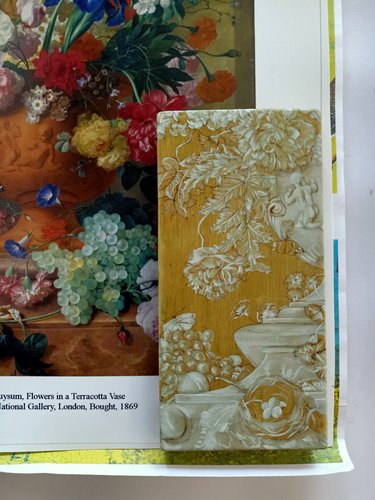 To register, please complete the following form.