Description
Stage orienté sur la création d'une sculpture/installation basée sur la réaction en chaîne, inspirée des illustrations de Rübe Goldgerg et du moyen métrage intitulé " The way things go" de Peter Fischli & David Weiss : https://www.youtube.com/watch?v=-Lm48xH6PaY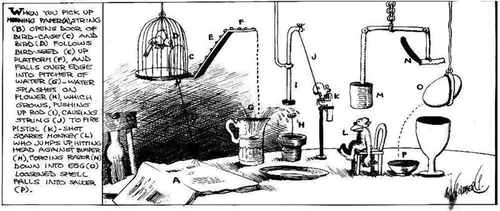 Les techniques abordées seront celles utilisées généralement dans la sculpture, à savoir : soudures, travail du bois, assemblages divers, utilisation d'outils appropriés.
Ce stage est à imaginer comme un laboratoire géant dans lequel les élèves auront l'opportunité de réaliser une pièce pour laquelle le travail en équipe, les réflexions communes et recherches de solutions aux divers problèmes liés à la création, seront mis en avant.
But du stage
Acquérir les techniques de base liées à l'assemblage et réalisation d'une installation.
Réflexion sur le travail de groupe et d'équipe.
Niveau
Initiation et perfectionnement, les élèves ne doivent pas avoir de connaissance particulière.
Matériel
Outils électroportatifs divers et outils à main classiques que l'on peut retrouver dans un atelier de base.
À prévoir: Divers matériaux voués à la décharge auxquels on n'accorde plus vraiment d'intérêt (morceaux de métal, bois, verre, plastique,...) petits et grands objets que l'on pourrait trouver sur une brocante : vieux jouets, machines électriques obsolètes, planches, tréteaux, roues diverses, billes, rouleaux, cordes, ficelles,...
Lieu de stage
Attention, ce stage en externat uniquement aura lieu à l'Académie des Beaux-Arts de la ville d'Arlon ( Rue Godefroid Kurth, 2 B-6700 ARLON). Les cours se donneront de 9h à 12h et de 14h à 17h.
Contact
Pour toute autre question, nous nous ferons une joie de vous répondre par mail (contact@akdt.be) ou par téléphone (061 22 54 79).
Vous pouvez également contacter le professeur sur son adresse mail : way_outs@hotmail.com
To register, please complete the following form.